A 17-year-old teenager from Bradford was convicted yesterday of making a pipe bomb and warning that 'more was to come' in social media postings.
The teenager, who cannot be named for legal reasons, had been found guilty of making or possessing explosives under suspicious circumstances.
But he was found not guilty of 'Engaging in the preparation of an act of terrorism' under the Terrorism Act 2006, even though his bedroom was found to be full of neo-Nazi flags and posters.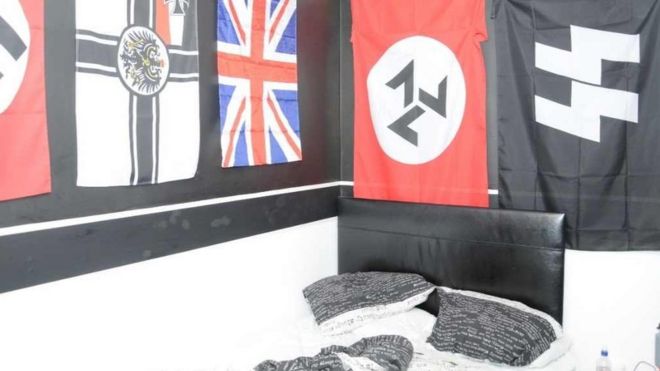 (from North East Counter Terrorism Unit)
The teenager had also been a member of the far-right British group National Action, which was just recently proscribed by the Home Office.
The neo-Nazi group held an anti-refugee demonstration in Newcastle last year with a banner that stated 'Refugees Not Welcome #HitlerwasRight'.
Police found that he had posted online:
Thomas Mair is a HERO. We need more people like him to butcher the race traitors.
In another message posted online with a picture of the pipe-bomb, he wrote:
Incendiary explosive and home-made black powder. More to come.
He also told the court he still held Nazi views.
And yet, he was not convicted of preparing for an act of terrorism.
He has been sentenced to a three-year youth rehabilitation order and ordered to receive intensive counselling from a deradicalisation expert.
In November last year the police said they were investigating another leader from National Action but nothing has yet come from it.
One of its leader, Jack Renshaw, told an anti-refugees rally in Blackpool:
You can call me Nazi, you can call me fascist, that's what I am. By only advancing our people once and for all, the superior race, the white race, only when we do that are we going to succeed.
When will the police take far-right extremism more seriously?