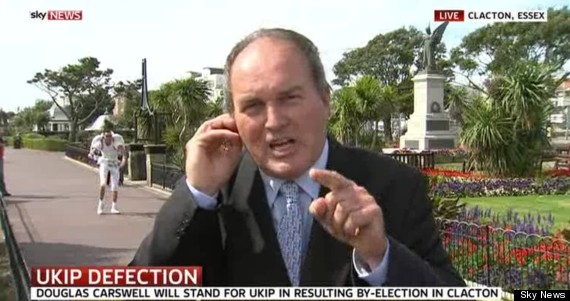 Six days ago, UKIP's tough-talking former candidate for Clacton, Roger Lord, was refusing to stand down to make way for "arrogant" Douglas Carswell:
"I've been through dangerous situations in Pakistan and South America, and you negotiate them: I've had a 16-year-old shove a machine gun up my nose in Nicaragua. I've faced bigger threats from real killers, and if they think they can walk up to me and push me then I'll push back.
"I've never run away from anything.
Perhaps the Nicaraguan child soldier would have had better luck by phoning him up and being mean. Lord tells the local press today:
"According to the rules I have the right to address the national executive but I was rung up and sworn at and told to shut up.
"I don't want to deal with fools like that. There are bigger things in life and I don't want to sink to that level.
And the best bit? He's quitting as a county councillor and transferring his support to the Lib Dems in the resulting by-election. You may have seen their party leader on the telly (he's the one on the right arguing passionately in favour of the EU).
This is a whole new take on fruit cake-ery.