The Guardian are reporting that Gordon Brown and his family were the subject of a News International hacking and blagging operation which targeted bank accounts, legal files and his son's medical records.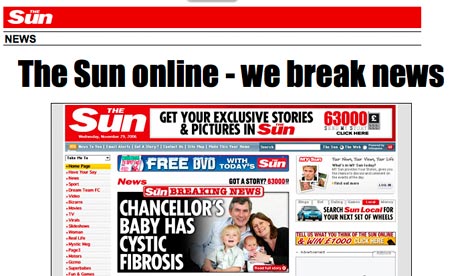 Revelations that The Sun obtained access to Fraser Brown's confidential health files — while he was still an infant — may lead to a re-examination of an already-known episode of hacking involving the former prime minister, in which his own records were accessed by a medical professional working near his constituency.
In a story which went curiously unreported south of the border, a doctor was charged with offences under the Data Protection Act in late December 2008 but The Daily Record reported in January 2010 that the prosecution was to be dropped.
Andrew Jamieson sparked a security alert after breaking into confidential computer files on the PM and First Minister and a series of other high-profile Scots.Former Labour leader Jack McConnell and his wife Bridget had their sensitive files viewed. BBC newsreader Jackie Bird and Old Firm stars were among other victims.

We told in March how Jamieson, who worked at the Queen Margaret Hospital in Dunfermline, was charged and appeared on petition at Dunfermline Sheriff Court.Now all the victims have been told there will be no trial as the Crown say that is not in the public interest – even though there is enough evidence to prosecute.
Scrapbook understands that Dr Jamieson was not struck off by the GMC but instead gave official undertakings which would restrict his medical practice. While there is no evidence that Dr Jamieson accessed Fraser Brown's records, today's revelations will likely lead to a re-examination of the appearance of key stories regarding the health of Gordon Brown, and that of his family, in the British media.
Set against a backdrop of heightened concerns around leaks of confidential personal data, Dr Jamieson claimed at the time he looked at the files out of curiosity and a nameless "senior politician" was at pains to stress that the motive did not appear to be material gain.
So why wasn't this reported properly in the English press at the time?